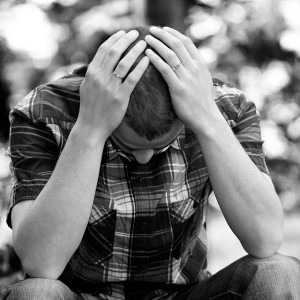 Depression is a very common mental illness. It is becoming a deeper concern in New Zealand, as well as across the entire world. One in six people will experience serious depression in their life time.
At a very basic level depression can be described as an absence of interest in doing things you previously found enjoyable, as well as having a generally low mood. Contrary to what people believe, it's not "being sad" and having to just cheer up. It makes you feel like you can never be happy again, because nothing you do makes you happy. You don't enjoy what you used to anymore. You just don't enjoy anything. J.K. Rowling, the author of the amazing Harry Potter stories uses this statement when describing her own experience of depression – "It's so difficult to describe depression to someone who's never been there, because it's not sadness. I know sadness. Sadness is to cry and to feel. But it's that cold absence of felling — that really hollowed-out feeling."
While Depression can affect people no matter their age, it's most common in people between 25 and 45 years old. There are various things that can lead to it and sometimes there is no clear cause. Here are some things that can encourage depression and increase your risk of being depressed.
A past experience of depression
A family history of depression
Loss or grief
Stress
Physical or psychological trauma
Physical illness or long-term health problems
Some medications
Drug and alcohol use can also increase the severity of your depressive episode.
Depression can affect people in different ways and often has a large effect on people's lives; Sleep patterns change, relationships and employment becomes dramatically affected as does your appetite.
The following are some common symptoms of depression:
Remarkably low mood
• Loss of interest and enjoyment
• Ideas/thoughts of self-harm or suicide
• Disturbed sleep
• Disturbed eating habit
• Decrease in sexual appetite
• Tiredness
• Low concentration
There are also a number of disorders that are associated with depression. These disorders can also have a huge impact on your everyday life. These are some of the common disorders:
Major Depressive Disorder – extremely low mood that is very consistent from one day to the next (dysthymia).
Postnatal (postpartum) Depression – low mood, anxiety, feelings of guilt/anger/hopelessness, suicidal thoughts/behaviours within 3-6 months following childbirth.
Bipolar Disorders – bouts of extremely low mood for an extended period of time, but then periods of mania (highly elevated mood with rapidly changing emotions).
Shore Therapy has extensive experience working with all forms of depression. The Therapists at Shore Therapy work to understand and resolve personal or historical issues that may cause or maintain your low mood. The therapists also have behavioural skills to help with motivation and identifying aspects of behaviour that may be affecting your depression.
If you think you have depression or know someone who is suffering from these overwhelming feelings of sadness and low mood, please, tell someone you trust, whether it be your family, friends, GP or contact a therapist. If you feel at imminent risk of hurting yourself or others, contact the emergency services or crisis numbers immediately