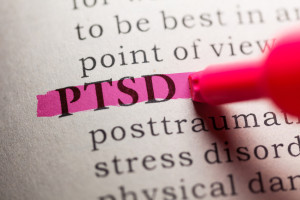 Post-Traumatic Stress Disorder is often characterised as the development of a long-lasting anxiety response following a traumatic event. Usually, those described as having PTSD have witnessed or experienced a traumatic event that threatens death, serious injury, or loss of personal integrity to themselves or another. Sometimes, you can develop PTSD from learning about a traumatic event that has happened to a loved one, this can be known as vicarious trauma.
Traumatic events that can trigger the occurrence of PTSD are; violent assault – such as physical/sexual abuse, mugging, kidnapping, being taken hostage, war, terrorist attacks, severe car accidents, natural disasters – such as hurricane, tsunami, volcano eruption, earthquakes and flooding, man-made disasters – such as explosions, fire, and chemical spills, life-threatening illnesses, or unexpected death or injury of a loved one or another person.
Post-Traumatic Stress Disorder usually develops between three to six months of the traumatic event and can be characterised by the following experiences:
Flashbacks of the event – such as dreams, images or reliving the event over and over.
Night terrors – really disturbed sleep and horrific nightmares often waking the person in fits of terror can be often.
Adversity to any object/place/person/activity that can act as a reminder to the event.
Any time the person is in contact with an object/place/person/activity that is a reminder of the event, it is followed or accompanied with an intense anxiety response. Panic attacks can be common.
Often people find it really difficult to remember specific fact or aspects of the traumatic situation.
Memory and concentration difficulties also become apparent.
Regularly, irritability or depressed mood is noticeable.
The outside world and people can become a very scary place, so isolation and social withdrawal are also common.
Hypervigilance and being startled easily can be an indicator to trauma.
Treatment:
Effective treatment for Post-Traumatic Stress Disorder can involve systematically confronting the experiences, memories and situations that are associated with the traumatic event. It can often be a scary experience, but processing through the thoughts and feelings linked to the event in a healthy way can have an amazing effect on quality of life. PTSD untreated, can be a hugely isolating and debilitating disorder that can affect how you function and experience the world.
As with most therapy, a huge part of the effectiveness of this work is the development of trust and safety between you and your therapist. This kind of work relies on the trust you have with your therapist to help keep you safe while unpacking scary and painful experiences.
If you would like to discuss Post-Traumatic Stress Disorder or require more information, please contact a mental health professional or us here at Shore Therapy.